This has been an amazing year for the Palomino rocking horse Stables. We have been busy with the Home Shows that we visited around the country. We had two new rocking horses which were very well received. One was our stunning Zebra.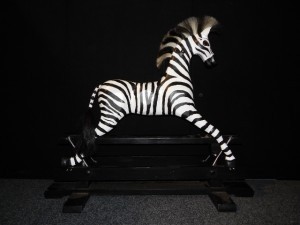 He was fun to paint although it was very time consuming but he just came alive as each stripe was added. The second new horse to make an appearance was Tane. He is a wooden rocking horse completely made from Swamp Kauri. Even his stand is kauri as he is too beautiful to sit on our ordinary pine stand. The extra kauri for the stand meant that he became our most expensive horse but he looks magnificent.
In the course of the year we have met many amazing people who have really enjoyed our rocking horses and there are now quite a few Palominos and Timber horses which are giving hours of enjoyment to different families.